Nucci Veterinary Clinic is aware of the vast amount of information available on the internet. Our team has taken the time and evaluated the following sites. We trust the information the listed websites provide to you, our client, and member of our family.
The Ultimate Guide to Pet Security - How to Pet-Proof Your Home
Feel free to check out an article by CCTV Camera World with some excellent tips on how to pet-proof your home to ensure your furry companions stay safe, engaged, and comforted at home! Kindly submitted by Ms. Duke and her students from the alternative learning program.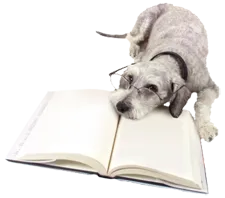 HealthyPet.com
The American Animal Hospital Association's website for pet owners.

American Board of Veterinary Practitioners
Information on the ABVP

The American Kennel Club
Breed registry for purebred dogs in the United States. Working to advance the study, breeding, exhibiting, running and maintenance of purebred dogs.

The American Kennel Club -- Dog Breeds
Learn more about the 150 different breeds recognized by the American Kennel Club.

ASPCA Animal Poison Control Center
Dedicated to providing the most medically useful veterinary poison and drug information possible. 24-hours poison hotline available.

The Association for Pet Loss and Bereavement
A non-profit organization dedicated to helping people suffering from the bereavement of a pet.

AVMA's Care For Animals
American Veterinary Medical Association's website for pet owners.

The Cat Fanciers' Association
The world's largest registry of pedigreed cats, with information on cat shows, cat breeds, cat care and more.

Cornell Feline Health Center
The Feline Health Center is a veterinary medical specialty center devoted to improving the health and well-being of cats everywhere.

Clean Run
Agility Information

FDA's Center for Veterinary Medicine
U.S. Food & Drug Administration's Center for Veterinary Medicine.

Hill's Pet Nutrition
Pet nutrition and information from the makers of Science Diet and Prescription Diet foods.

IAMS
Information about Iams brand pet foods.

The Perseus Foundation
Numerous online resources provided by an organization dedicated to promoting public interest in the search for a cure for cancer in animals and children.

Petfinder.com
Search a vast database to find a homeless pet to adopt.

Pets Need Dental Care Too
Learn more about proper oral health care for dogs and cats

Tufts University Pet Loss Support Hotline
Helping people work through their grief and get through a difficult time.

VeterinaryPartner.com
Animal health information from the Veterinary Information Network, an online veterinary database and community.