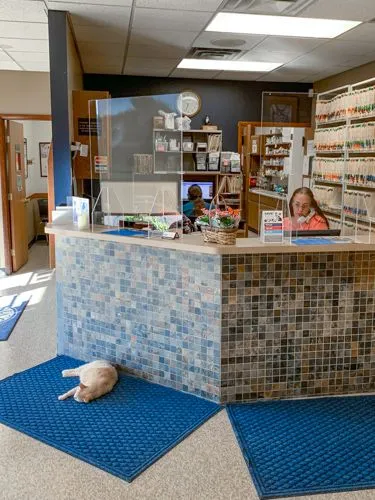 When you walk into our lobby, our hard working client ambassadors are here to answer questions and check you in for your appointments. You may also have a chance to meet our official greeter, Edna…. If she's not napping that is.
We have several exam rooms to fit dogs and kitties of all sizes. Each room is completely ready for our doctors to do their exams right there with you. That way they can answer questions and talk to you about any concerns right away.
We use state of the art diagnostic machines to run blood work and urine right here in our hospital. No need to wait for answers if your pet is sick! We also have digital X-ray, which means we get sharp, clear images for our doctors to interpret.
Our pharmacy is stocked so that we can send most medications right home with you from your appointment. No need to hunt down a pharmacy, we've got you covered!
Our treatment area is where we take your pet for manicures, injections, and any other treatments they might need. We have lots of room to offer them treats and hugs while we take care of their needs during the appointment.

Our surgery suite includes a state of the art laser which reduces bleeding and recovery time for your baby. We are able to accommodate routine procedures like spays and neuters, as well as more complex procedures like cystotomies, mass removals, and orthopedic procedures.