Joanna, LVT Veterinary Technician
Born and raised in the beautiful city of Krakow, Poland, Joanna, and her family came to the United States in 1989. Graduating from Macomb Community College in 1993, she became a Licensed Veterinary Technician and has been with Nucci Veterinary Clinic for thirteen years. Her specialties include surgery, dentistry, cytology, and providing clients with behavioral consultations. She is extremely passionate about client education and is constantly attending seminars and lectures to learn more that she can bring back to the practice. Having raised and socialized many various creatures, she is always seeking to rehabilitate other orphaned animals. In her free time, she adores going on trail rides with her horse in Kensington, along with playing tennis with her husband or visiting with her daughter in Grand Rapids. Completing her home are also two dogs and two cats.
---
Brenda, Site Leader & LVT Veterinary Technician
Brenda graduated from Macomb Community College in 2003 and is a Licensed Veterinary Technician. She joined the Nucci Veterinary Clinic in 2008. Brenda enjoys several aspects of veterinary medicine including client education, taking care of orphaned kittens, and helping geriatric pets remain comfortable in their senior years. Brenda's other special interests in veterinary medicine include emergency medicine, radiology, and lab work. In her spare time, Brenda enjoys spending time up north at her cottage, camping, cooking, and gardening. Brenda also enjoys spending time with her husband, daughters, and two rescue dogs, Mabel and Rosie.
---
Lisa, LVT
Veterinary Technician
Lisa started at Nucci as a kennel assistant in 2013 while she was in school. She graduated from Macomb Community College's veterinary technician program in 2015. Lisa has wanted to be a veterinary technician for as long as she can remember. She has two dogs, two cats, one husband, and one darling little boy born in June 2021.
---
Becky Client Ambassador
Becky has been with Nucci as a client ambassador since 2008. She lives in Clinton Township with her husband, daughter, and 2 cats. In her spare time, she enjoys gardening, crocheting, sewing, and attending Renaissance Festivals.
---
Ashley T. Veterinary Assistant

Ashley T. Started working at Nucci in May of 2021. She graduated from Roseville High School in 2020 and is now attending Macomb Community College to pursue a career working with animals as an LVT. She has one very sassy bluetick coonhound named Jessie that is a couch potato that loves to get pets all day long.
---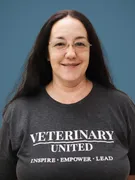 Lynette
Client Ambassador
Lynette has worked at Nucci since 1999 as one of our friendly faces at the front desk. She enjoys quiet time at home with her children and pets when she's not helping to care for our clients' pets here at the clinic.
---
Annmarie Client Ambassador
Annmarie is one of our client ambassadors. She graduated from Walsh College with a degree in business administration. She switched to the veterinary field because of her love for animals and helping people to care for them. She lives with her husband, daughter, and two senior cats, Angelique and Drake. When she's not at work, she enjoys traveling, camping, reading, and photography.
---
Ashley N. Veterinary Assistant
Ashley N. started with a love for animals at a young age. She grew up on a horse farm which gave her a lot of very special memories. She continued to work with the Macomb Humane Society to help with adoptions and taking care of the horses and other large animals. She completed her vet assistant certificate through Ross Medical and has worked at vet hospitals ever since. Ashley joined the Nucci team in 2017. Her hobbies, aside from long walks on the beach, include spending time with her daughter and being a DJ/karaoke singer on the weekend. She loves to make people laugh and tries to do it at least once a day. Ashley believes that if she at least got a smile, then she completed her mission. Music is also a huge part of her life, quoting Jimi Hendrix saying, "music is my religion."

---
Téa, Veterinary Assistant
Téa was born and raised just one mile up the road from Nucci clinic. From the time she was ten years old, saving her allowance to rescue her first pet rabbit, Téa always knew she was destined to work with animals as a career. She has a commitment to helping animals in need. Téa has helped to foster over twenty dogs. She is in her fourth year of being employed by Nucci Vet Clinic as a veterinary assistant. Her plans are to attend Macomb Community College, where she will complete the veterinary technician program and go on to become a licensed vet tech. Téa's hobbies are photography, kayaking, arts and crafts, and jewelry making. She lives here with her parents, brother, two Australian Shepherds 'Cooper' and 'Jagger' and her beta fish named Frenchy.

---
Mary, Veterinary Assistant
Mary is a VA that started with Nucci in February of 2021. She has worked at pet stores, and groomers, and now happily has found her place at Nucci. Pet care has been her main interest since she was a kid, and she can't imagine a career path that doesn't include what she loves the most. She loves all animals from big and furry to small and scaly. Currently, she has two cats, Minnie and Sapphire, a crested gecko named Norman, her pacman frog named Frogg, and two tarantulas named Lothbrok and Sonic.
---